For a long time, polers were discouraged from moisturizing their skin due to a misleading misconception that moisturizing would lead to slipping on the pole. As a result, we neglected proper skin care and ended up with dry and unhealthy skin that actually causes slipping.
But today, we know better. We're aware of the many benefits of moisturizing your skin as a pole dancer, which include:
Improving your grip naturally with supple and hydrated skin
Eliminating dry and dead skin to enhance your climbs, spins, and body inversions
Reducing the need for using artificial grip products
Enhancing the effectiveness of grip aids
Preventing rips and moisturizing the calluses on your hands
Moisturizing your hardworking skin will also ensure your skin is soft, supple, and beautiful even when you're not pole dancing or training.
Furthermore, proper skin hydration enhances your skin's tone and firmness.
But, how do you determine the best moisturizer?
Below, we discuss the top features of the best and only hydrating moisturizer specially designed for polers.
Table of Contents
1 - Made Using All-Natural Ingredients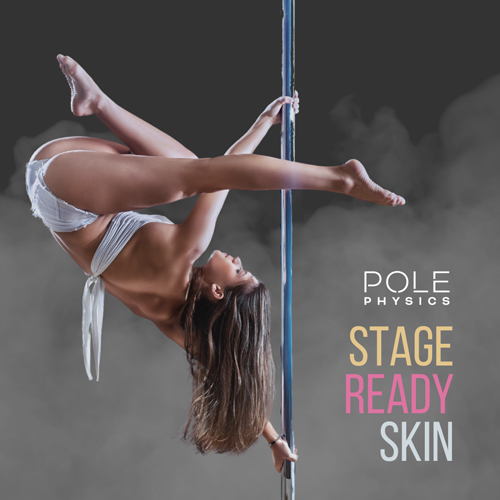 A good moisturizer for polers contains high-quality ingredients sourced from nature. These natural raw materials help to energize the skin and improve its tone.
Using natural ingredients in poler moisturizers also makes the products suitable for everyone, including folks with super-sensitive skin and kids.
It also ensures that you can use the products during pregnancy and when breastfeeding without harming the baby.
At Pole Physics, we produce natural and healthy products that we and other polers enjoy and derive maximum benefits from.
Some of our favorite COSMOS Certified natural extracts that you'll find in most of our products include:
Vitamin E: A powerful antioxidant that moisturizes, nourishes, protects, and tones your skin. When applied regularly, it repairs, restores, and improves the overall health of your skin.
Horsetail extract: It contains antimicrobial and antibacterial properties that help repair damaged skin. It also cleanses and energizes your skin to ensure it's firm and tight.
Ginkgo extract: An antioxidant with soothing and anti-inflammatory properties. It improves your skin's moisture retention ability to reduce roughness and the appearance of wrinkles.
Arnica extract: A skin-healing natural ingredient that soothes the skin and prevents hyperpigmentation and scarring.
Green tea extract: A rich antioxidant with anti-inflammatory properties. It makes your skin more radiant, improves your complexion, and soothes irritation and redness.
What's more, our products are non-toxic and devoid of the following harmful chemicals and contaminants often found in skin care products:
Mineral oils: A petroleum byproduct that clogs skin pores, reducing your skin's ability to eliminate toxins.
SLS (Sodium Lauryl Sulfate): A cleansing agent that triggers multiple allergies, clogs pores, and causes acne.
Silicones or silicone derivatives: A chemical product that forms a thick barrier on the skin, encouraging the formation of acne, blackheads, and blemishes.
Artificial fragrances or colors: Toxic combinations of chemical ingredients often identified as allergens and hormone disruptors.
Propylene Glycol: A moisture-carrier that's easily contaminated with carcinogens.
Parabens: Common preservatives that contribute to hormonal imbalance.
Petrochemicals: A petroleum product that's notorious for clogging pores.
2 - Doesn't Leave a Greasy or Sticky Residue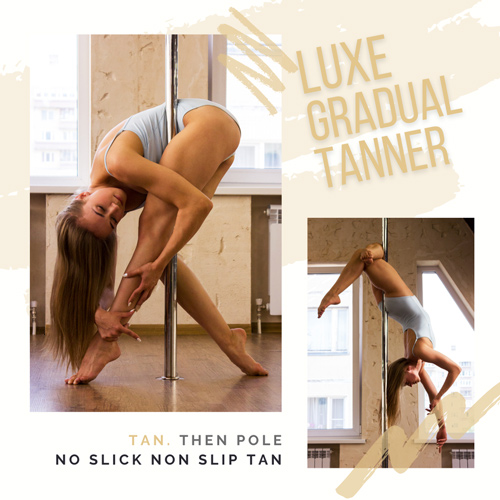 The Pole Physics range of lotions uses a light formula that's easy to apply, absorbs quickly, and penetrates the layers of the skin. Unlike traditional lotions, our lotions don't deposit a layer of oil on the skin's surface, leaving a greasy residue or a thick, oily film when you sweat.
Our lotion penetrates the layers of your skin to deeply nourish and hydrate it. The efficient absorption of the lotion ensures your skin is soft and supple and improves your ability to grip the pole better.
The no-residue effect is present in all our lotions, including the Luxe Gradual Tan lotion. We know it's uncommon to find a tanning lotion that doesn't leave you with a thick residue for hours after application.
But we made it possible by creating a gradual tanner without a bronzer. This means you don't need to wash it off before pole training or performance. Neither do you need to avoid wearing brightly colored clothes after application.
As the name suggests, the lotion gives you full control of the tanning process. Therefore, you can layer on as much product as you need to build the depth of color you desire.
"My favorite formula of all! Light, non-greasy, and awesome golden glow after just a few applications! Love it!"
— Chris Talbot
Unlike other tanners, our fast absorption tanner also doesn't leave you with an unwanted horsey stink. We've infused it with Australian Lemon Myrtle, Lavender Oil, and Vanilla Fruit Extract to give it a fresh, uplifting smell.
3 - Enhances Your Grip on Poles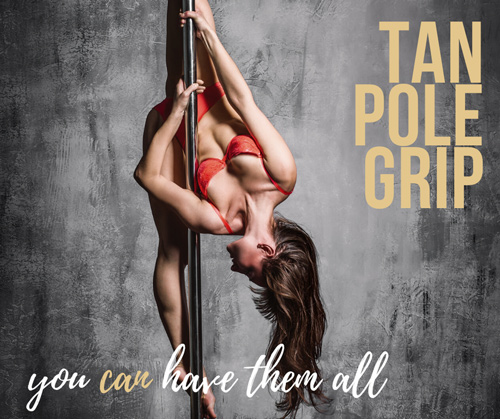 At Pole Physics, we like to say: Dry skin slips—Healthy skin grips.
Why? Over the years, pole dancers have been advised not to moisturize their skin "to avoid slipping."
However, you're more prone to slipping if you have dry and scaly skin because your skin lacks sufficient moisture to provide the traction and stickiness you need to move around the pole.
Hydrated skin enhances your natural ability to grip the pole well because it provides a little more tackiness.
The Pole Physics lotions also improve the performance of grip aids like Enviro Grip and X-Dry Grip. That's because these products adhere well to properly hydrated skin. Otherwise, when you use them on dry skin they produce a gritty residue that could cause slipping.
We don't recommend using chemical grip aids on dehydrated skin because most are alcohol-based and will only exacerbate dryness.
Our lotions are also great for moisturizing those calluses we all hate when we start pole dancing but learn to love as time goes by.
Why should we love them? Calluses are never the enemy because they protect the delicate skin on our hands from bruising and help to maintain a good grip on poles. You can keep them soft by using a hydrating moisturizer.
Expert Tip: We only recommend using grip aids on healthy skin by polers with a sweat problem.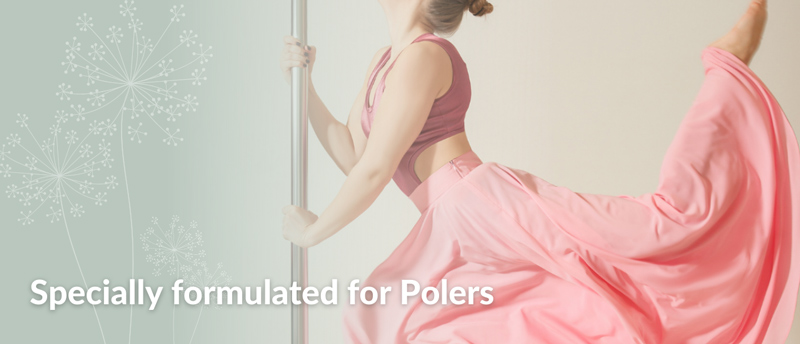 Pole Physics Hydrating Lotions for Polers

Pole Physics was established in 2009 by Australian pole dancers to help pole dancers and other performers beat dry, scaly skin.
It's the world's first moisturizer that's specially formulated for polers. It helps to improve your grip while keeping your skin soft, supple, and hydrated.
We have a range of products designed to address your various skin needs.
The table below highlights all the Pole Physics lotions and their best uses.
Product
Name
Best For

Dry and scaly skin
Sensitive skin
Sore skin
Brass burn
Polers with chrome and nickel allergies
Children age 0+

Building a gorgeous golden tan
Enhancing skin tone and firmness
Moisturizing and hydrating the skin
Children above 8 years old

Brass burns
Sore skin
Pole kisses
Evening out skin tone and complexion
Enhancing skin firmness
Children above 8 years old

Mums and babies
Pregnant women
Nursing mothers
All skin types and ages (0+)

Pole Physics Aussie Lemon Myrtle (previously called the Summer Scent) Lotion
Frequently Asked Questions
What's the best way to use Pole Physics lotion?
We recommend two non-negotiable steps:
Exfoliate your skin at least 2–3 times a week to remove dead skin.
Apply any of our lotions soon after you jump out of the shower (within the first 5 minutes). This is when your pores are open and ready to absorb the lotion.
Bonus Tip: You should apply the 7–10 hours before a pole performance or training session.
How soon can I expect to see a difference?
If you exfoliate and moisturize as we recommend, you'll see results within a week or two. However, the results may vary depending on how dry your skin is, whether you use alcohol-based grip-aids, and based on environmental factors.
How do I know I've overdone my hydrating moisturizer?
When you apply too much Pole Physics hydrating moisturizer, you're left with a thick white residue. Fortunately, you won't need to wash it off. You can just wipe the excess off using a towel and you'll be good to go.
Why is my moisturizer forming a thick layer?
Your moisturizer could be forming a thick layer on your skin for one of two reasons:
You've applied too much.
OR you didn't exfoliate; so your skin formed a barrier that inhibits absorption of the moisturizer.
You can just wipe the excess off using a towel, your skin will have absorbed what it needs to.
Remember though - exfoliate and then use your lotion and you'll be good to go.
Share on Facebook: